STEM Elite Team 於「vHK都會之旅」AR創作比賽決賽中獲獎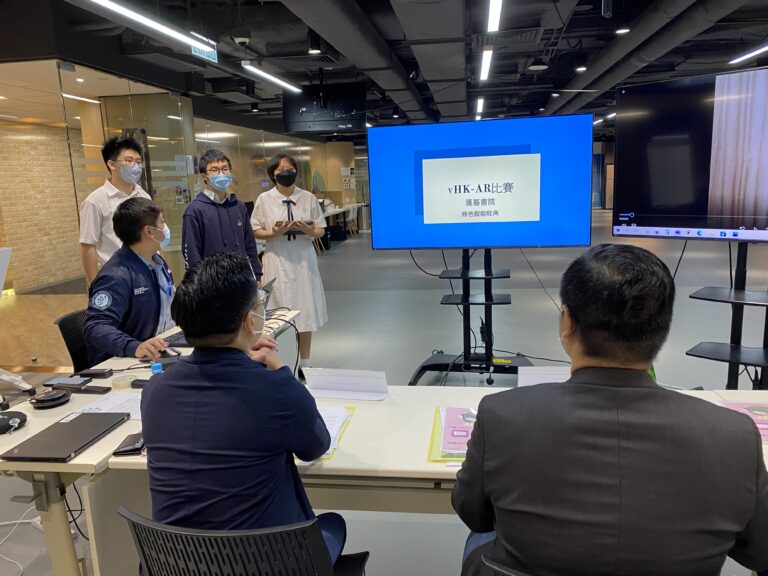 感謝神的保守及帶領,滙基STEM Elite Team 成功進入「vHK都會之旅」AR創作比賽決賽中獲得一等優異獎及最佳合作學校獎。
「vHK都會之旅」AR創作比賽為慶祝香港特別行政區成立二十五周年的活動之一。參賽隊伍須運用創意結合虛擬AR技術,並根據《香港智慧城市藍圖2.0》的願景與目標,打造他們理想中的綠色智慧香港景象,以及展示如何運用創新科技抵抗新型冠狀病毒。
STEM Elite Team的同學結合虛擬AR技術呈現出「智慧垃圾回收箱」並加入綠色和抗疫元素,令市民更能感受智慧城市及創新科技為日常生活帶來的裨益。最終的AR作品將會在TechEd STEM教育展覽展出。
參賽隊伍 1  (隊伍編號:SS01401,學生專頁ID:vhk_021)
隊員:
2A 李爵希
2B 呂諾  
5A 胡皓程    
5D 譚浚生 
5C 劉楹蓁
再次恭喜參賽的同學,亦感謝何嘉樂老師的指導和協助。
Congratulations to the STEM Elite Team for winning the 1st Merit Award and the Best Collaboration Awards at the "vHK Grand Tour" AR Design Competition.
The "vHK Grand Tour" AR Design Competition is one of the activities celebrating the 25th anniversary of the establishment of the HKSAR. Based on the "Smart City Blueprint for Hong Kong (Blueprint 2.0)" mission, participants are encouraged to use creativity and virtual AR technology to create their ideal green and smart living scene of the City and demonstrate how to use innovative technology in combating Covid-19 viruses.
Students from the STEM Elite Team combined virtual AR technology to present a "smart garbage collection box". By adding green and an anti-epidemic element, the Box allows citizens to better experience the benefits of smart city and innovative technologies in their daily lives. 
The final AR artwork will be displayed at the TechEd STEM exhibition.
Team 1 (Team ID: SS01401, Student Page ID: vhk_021)
Members:
2A Lee Cheuk Hei
2B Lui Lok
5A Wu Ho Ching
5D Tam Chun Sang
5C Liu Ying Tsun
Once again, congratulations to the participating students, and thanks to Mr Ho Ka Lok for his guidance and assistance along the way.